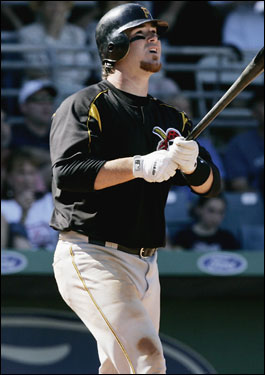 RYAN DOUMIT
Born: April 13th, 1981.
How Acquired: Drafted by the Pittsburgh Pirates in the 2nd round of the 1999 amateur draft. Player signed June 16, 1999.
2006 Stats:
AVG: .208
R: 15
HR: 6
RBI: 17
BB: 15
SO: 42
OBP: .322
Summary:
To say that Ryan Doumit has been inconsistent during his time with the Pirates could fall as an understatement. Where he has been consistent, however, is finding ways to spend time on the disabled list. He has constantly been hurt, from his time in the minors up to when he was the leading candidate to be the Pirates starting catcher in 2006.
The first time he got 250 at-bats in a season was in 2002 in A ball, and he he broke out a .322 average. After struggling through 2003 and 2004, he made his debut in June of 2005 and hit .255 with just six home runs in 231 AB's. At AAA ball during the same season, he hit .345 with 12 home runs in just 165 AB's and the peak and valley's of Ryan Doumit had once again swung upwards.
A groin pull kept him from doing anything meaningful in 2006 and Ronny Paulino flew in and not only took the starting job, but solidified his spot in stone. Where Doumit will go from here is really hard to figure, he most likely won't catch much this year and while some have mentioned Doumit at 1B and RF, both spots seemed to filled right now, especially with Adam LaRoche.
If he could stay healthy, he could present some trade opportunities or even platoon ideas in right field, but his health is the first step, everything else will have to fall in place from there.
Profile Links: